Way Too Long: Prolonged Detention in Border Patrol Holding Cells, Government Records Show
Each year, the Border Patrol, a division of U.S. Customs and Border Protection (CBP), holds hundreds of thousands of people in detention facilities near the southern border that are extremely cold, frequently overcrowded, and routinely lacking in adequate food, water, medical care, and access to legal counsel. Although CBP intends these facilities only for short-term detention—meaning that a person should be held there less than 12 hours—data obtained by the American Immigration Council through the Freedom of Information Act (FOIA) shows that the Border Patrol regularly uses them to detain people for prolonged periods. Over 80 percent of people detained by the Border Patrol in its Tucson Sector are held for over 24 hours, meaning that men, women and children are forced to sleep on concrete floors and hard benches in holding cells that lack beds and are not equipped for sleeping. 
Border Patrol Holding Cells: An Overview
In Fiscal Year (FY) 2014, the Border Patrol apprehended 479,371 individuals along the U.S.-Mexico border. Typically, when Border Patrol agents apprehend an individual near the southern border, they confine that individual in a holding cell while they complete his or her initial processing. After processing, detained individuals are released, repatriated to their home countries via formal removal or informal return, or transferred to the custody of another federal agency.   
Although there are no statutes or regulations specifically governing CBP short-term detention facilities, CBP has issued internal guidance regarding standards, specifications, and the operation of its facilities. According to CBP guidance, holding cells generally are rectangular, made of concrete, and minimally furnished, and are neither designed nor equipped for overnight sleeping. Indeed, CBP policies specify that there are "no beds" in holding cells, as they are "not designed for sleeping." As a Border Patrol spokesman said, "It is what it is. We're not a long-term hold facility." 
CBP guidance also sets limits on the maximum length of time that an individual should be held in a holding cell. According to a 2008 CBP memorandum, a detainee should not be held for more than 12 hours," and should be moved "promptly." Nonetheless, CBP guidance also recognizes that some individuals will be held longer. 
In addition, CBP guidelines for holding cells proscribe that detainees will be provided snacks and meals, will be given access to potable drinking water, will have access to bathrooms and toilet items, and will be given necessary medical attention.  Further, agents will make reasonable efforts to provide a shower for detainees held for more than 72 hours and detention cells will be regularly cleaned and sanitized.
Reports of Poor Conditions in Border Patrol Holding Cells
Notwithstanding CBP standards regarding short-term detention, former detainees and others report poor conditions in CBP holding cells—conditions that violate CBP's own policies and also are alleged to violate the U.S. Constitution. Former detainees vividly describe extremely cold temperatures—so cold that both detainees and guards have come to call the cells "hieleras" (Spanish for "freezers" or "iceboxes"). Detainees describe being forced to sit and sleep, sometimes for multiple nights, on cold, concrete floors and benches; receiving little or no food or clean drinking water; being packed into overcrowded and unsanitary holding cells without basic hygiene items; denied adequate medical screening or care; denied communication with family members, legal counsel, or consulates; and coerced into signing deportation papers. Despite numerous reports and articles exposing these conditions, they continue unabated.
CBP's own records, discussed below, show that thousands of people endure these inhumane detention conditions for prolonged periods of time. Numerous human rights reports, media accounts, and documented complaints of former detainees confirm this. They also indicate that prolonged detention has occurred for years. The Tucson-based humanitarian aid organization No More Deaths reported that—as far back as 2011—approximately 30 percent of more than 12,000 individuals interviewed were detained in short-term CBP facilities for more than 24 hours. In 2013, Americans for Immigrant Justice identified individuals detained for as many as 13 days in Border Patrol holding cells. 
CBP Commissioner Gil Kerlikowske has acknowledged that individuals are detained overnight in these facilities, stating publicly that detainees should not have to sleep on a concrete floor.
Border Patrol's Tucson Sector
CBP maintains and operates multiple detention facilities in its Tucson Sector. The Tucson Sector covers most of Arizona, from the New Mexico state line to the edge of Yuma County, AZ. The sector includes the Cochise, Pima, Pinal, and Santa Cruz counties of Arizona. The Border Patrol describes its Tucson Sector as "one of the busiest sectors in the country." In the past two fiscal years, the Border Patrol apprehended more than 200,000 people in the Tucson Sector alone. Of the 479,371 Border Patrol apprehensions along the U.S.-Mexico border in Fiscal Year 2014, approximately 18 percent occurred in the Tucson Sector. 
Government Data Shows Lengthy Detention in Tucson Sector Holding Cells
In response to a FOIA request by the American Immigration Council, CBP provided data regarding the number of individuals detained in the Tucson Sector between January 1, 2013 and June 30, 2013, and the length of time they were detained. The data shows that CBP held 72,198 individuals during this six-month period and that the vast majority were detained for at least one night, with many detained for significantly longer periods of time.
CBP held these individuals in detention for an average of 49.9 hours, with a median of 39.4 hours. This data shows that the average individual detained by Border Patrol agents was forced to sleep in facilities not intended for sleeping—that is, forced to sleep without a bed on concrete floors or hard benches. A shocking 58,083 individuals, or 80.4 percent of the total number detained during this period, were held in detention for 24 hours or more. Moreover, over one-third (34.4 percent, or 24,832) were held for 48 hours or more, and 10.9 percent (7,839) were held for 72 hours or more. 
Length of CBP Detention, Border Patrol Tucson Sector, January 1 - May 2, 2013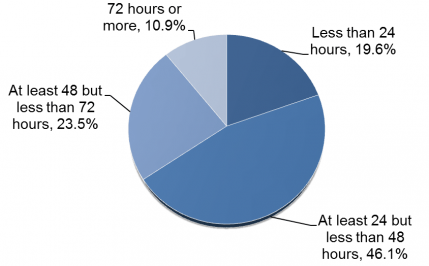 Conclusion
This newly released data shows that the Border Patrol routinely forces its detainees to sleep in cells that lack beds or other reasonable sleeping accommodations, often for multiple nights. During this time, detainees are forced to endure severe conditions, such as extreme cold, overcrowding, and limited (or no) food and water. The Border Patrol routinely fails to follow even its own minimal detention standards in the Tucson Sector. Several detainees recently filed a class action lawsuit against CBP, claiming that the lack of beds and other terrible conditions in holding cells in the Tucson Sector violated their Constitutional rights. Other reports indicate that the Border Patrol is holding individuals in substandard conditions for extended periods in other CBP sectors as well.
Though CBP Commissioner Kerlikowske has publicly committed CBP to the "highest levels of transparency and accountability" to ensure the trust of the American people, this data—and documented accounts of deplorable detention conditions—demonstrate that additional oversight of the Border Patrol is critical and agency accountability is long overdue.   
Data Used in Report: USBP Tucson Sector Apprehensions January 1, 2013 - June 30, 2013